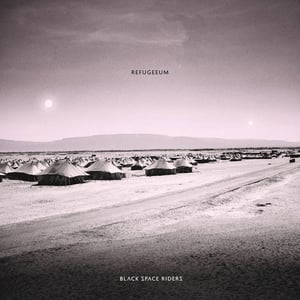 $

22.00
2LP, REFUGEEUM, double-vinyl, super heavy 180g, incl. FREE CD, lyric-insert, inside-out-cover
The new, fourth album by BLACK SPACE RIDERS is here ... and it's called "REFUGEEUM"!
REFUGEEUM, as in "refugees" as well as in "refuge". Deeply moved by what is currently happening on this planet, the band has left its orbital wanderings at least thematically and turned instead to an earthly, eternal issue, one that is, sadly, very topical again: flight and expulsion - loss of home - profound sorrow – the will to survive - hope for what may come - hunted and hunter - victim and perpetrator - acceptance and rejection.
Compared to the band's internationally acclaimed previous album "D:REI", REFUGEEUM, with its nine songs and about an hour's playing time, is almost compact.
The band has managed to evolve its style and give space to what it likes, while also respecting its roots.
REFUGEEUM is profound both lyrically and musically. The whole album is pervaded by a sublime and uplifting atmosphere that oscillates between dreamy and gripping, sadness and hope, longing and pursuit.
The songs are complex, yet catchy, and continue to resonate for a long time after listening. The two lead singers, JE and SEB, work in harmony in expression, feeling and versatility. The guitars dare to even greater openness and clarity. In every song, there are exciting, and at the same time often unexpected, grooves, a rich bass foundation, and a drumming that develops and drives the song.
The band has expanded its original fat riff and space cosmos to encompass anthemic and melodic lead guitars. It integrates playful beats, and trip-hop, dub, and New Wave elements. This makes REFUGEEUM exciting and varied.
An album that's like a journey. Varied and yet fluent, a unified whole. An album that also takes a stance. REFUGEEUM sounds great, has something to say, is moving, and also great to listen to!