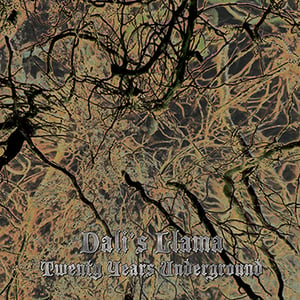 $

15.00
If someone were to erect a shrine to the founders of the Desert Rock scene, an imposing Mount Rushmore-style monument, the four faces would have to be Mario Lalli, Herb Lineau, Sean Wheeler and Zach Huskey.
Other Desert musicians have received more recognition and achieved more notoriety, but these guys were the originators, the pioneers. A lot of people claim to have attended generator parties. These guys invented them.
The band has been going strong for 20 years, releasing 10 albums: Pre-Post Now, Creative Space, Being, The Color Of Apples, Chordata, Sweet Sludge, Raw Is Real, Full On Dunes, Howl Do You Do and Autumn Woods.
To commemorate their two decades as a band, Dali's Llama has released their first vinyl long player, Twenty Years Underground. The album isn't a broad examination of the Dali's Llama oeuvre. But it is a lovingly curated eight song LP that represents the last five years of the band.
The best thing about Twenty Years Underground, is that you get to listen to this amazing band on vinyl. If your ears are constantly tuned to the tinny convenience of MP3 music, prepare for the mind-blowing experience of really hearing the full, rich sound as the needle hits the groove.
Although this isn't the lavish, career-spanning box set the band deserves, Twenty Years Underground gives you a tantalizing taste of power and majesty that is Dali's Llama. It will leave you wanting more.