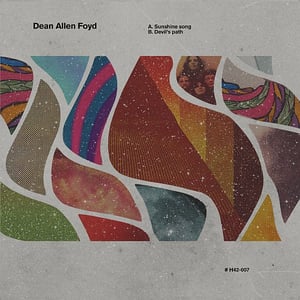 $

10.00
H42-007 DEAN ALLEN FOYD 'Sunshine Song/Devil's Path' 7"
Swedish psychedelic rockers from DEAN ALLEN FOYD are back on your turntables this summer, with two new tracks! The 7" Single was recorded at Fashionpolice Studios Stockhom. The new Single 'Sunshine Song' will hit the stores as a limited edition in different colors!
DEAN ALLEN FOYD is a psychedelic band based in Stockholm, Sweden, with a wide range of music styles. Syd Barrett's Pink Floyd, Arthur Lee's Love and Captain Beefheart can be easily picked as some of their influences, but at the same time the band takes a step forward into making their sound modern and updated with the present times.
DEAN ALLEN FOYD started out their journey around the end of 2010 after signing a publishing deal with Misty Music. By the end of February 2011 the band had already entered both Decibel Studios and Fashionpolice Studios to record the songs for their debut record. In October 2011 DEAN ALLEN FOYD teamed up with record label Crusher Records to have their debut album released in early year of 2012.

Side A:
Sunshine Song
Side B:
Devil's Path