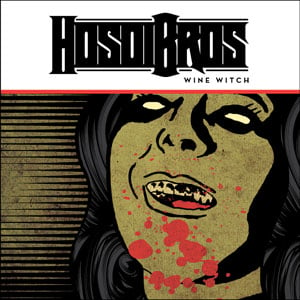 $

5.00
Wine Witch": Hosoi Bros debut single. Limited run of 300 on Glow in the Dark Vinyl!
Every time I hear this, I like it a little bit more. Looking at the guys, you wouldn't know what to expect. Check out the photos on the back, you'd think the local trailer park got overturned by a tornado and resurrected the muck hiding under the local rocks in Memphis. And that muck formed a band. On top of that, lead-singer/guitarist Severin Allgood (yes . . .I love his name) has the appearance of a lost Hanson Brother; the one who never made the hockey team. But then they start playing and, holy fuck, all notions go out the window. Forget appearances. These guys flat out rock! "Wine Witch" is full on Motorhead fueled, punk-snot nosed, Angelwitch sputum NWOBHM. Guitars flare and wind and undulate and it's all so . . . .fucking good. There's a stoner vibe to the guitar tone, but all amped up as if the bong got filled with meth not water. And best of all, the band just don't take themselves seriously. I mean, come on. Wine Witch? 666? It's that tongue in cheek humor that just makes the damn thing so special. "Yellow Fever" rocks with just as much abandon.
The heavy scene needs a band like this. One that doesn't get lost up their own tattooed ass. No pictures of wax dripping down skulls and burning embers. Just pure, unadulterated metallic haze. I heard these guys are one of the most raucous acts in Memphis. I don't doubt that for a second.
Hanson Brothers of metal. Who'd a thunk it?