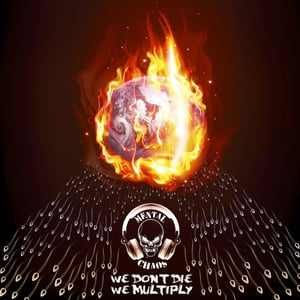 $

12.00
180 gram black, red, green, gold splatter
Mental Chaos "We Don't Die, We Multiply" - A clever blend of thoughtful lyrics, catchy hooks, with the essence of traditional and modern hip-hop, jazz, and neo soul sound; this is the core of Dallas, Texas' emerging artist Mental Chaos.
A musical throw back to the boom bap ear of hip hop, where keeping it simple meant relying on talent, and having something worthy to say, this LP is capable of enticing the tradition, young, and modern hip-hop and soul fans alike in multiple demographics. "We Don't Die, We Multiply" is as pure, hard thumping, and emotional as it gets.
With thick layers of instrumentation, complimented by intelligent vocal and song arrangement, the Mental Chaos full length album is in the "sounds like" category of Gangstarr, Pete Rock & CL Smooth, A Tribe Called Quest, Showbiz & AG, De La Soul, DJ Jazzy Jeff, The Roots, and Rass Kass.
Creative in all aspects, this record is tightly arranged and produced by all three members of the group (DJ Rodney, N-Hance, and K-Phlx) and engineered by Ty Macklin (producer of Erykah Badu and India Irie).
This is an LP that touches the soul, makes you nod your head, welcomes you into the adulthood of hip-hop, and uplifts the spirit within the listener. This is the LP that is totally contagious, conscious, and the one that has a song that everyone will have to play over and over again. This is the mentality of Dallas' Mental Chaos.