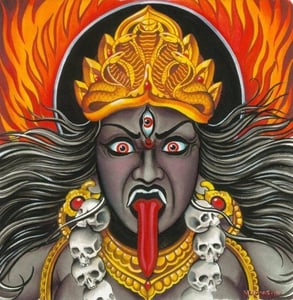 $

20.00
limited to 300 copies. 100 on red vinyl, 100 on yellow vinyl and 100 on gray vinyl.
all hand numbered and includes a download card.
Port Orchard, Washington, heavy rockers Mos Generator and Gorst, Washington, newcomers Sower will release a split 12″ via Devil's Child Records on Nov. 27. It is a local affair — Washington bands, cover artist, label — but the appeal goes well beyond the region. Both groups recorded with Mos Generator guitarist/vocalist Tony Reed — joined in his band by bassist Sean Booth and drummer Jono Garrett — and as two trios playing four tracks apiece of straightforward heavy rock and roll, they showcase a diversity of experience and songwriting.
In a way, both are new bands. The connection goes back to Reed's time in Stone Axe, as that band's bassist, Mike DuPont, and drummer, Mykey Haslip, feature in Sower alongside guitarist/vocalist Bo McConaghie, but Mos Generator are a new band here as well. I don't think this split marks the first recording for Booth in the band (that might be the earlier 2015 split with Isaak or the recently-unveiled acoustic track), but it's definitely the first output with Garrett on drums. He plays on opener "The Prow," which is a Voivod cover taken from their 1991 full-length, and the subsequent "Wicked Willow," which was a demo that never quite to fruition before he joined. On both the original and the cover, Mos Generator's stamp is unmistakable, and Garrett's swinging ping ride fits smoothly with Booth's bassline and Reed's riffing on "Wicked Willow," which precedes "Red Canyons" — born out of a HeavyPink one-off jam that, if I remember right, also featured DuPont — and "Serpent's Glance," which is another demo, this on born out of a Reed studio session in Denmark producing the band Doublestone, boasting Booth on bass and Shawn Johnson on drums.
At least theoretically it's a little easier to keep track of who's doing what on Sower's side of the 12″. Apparently rooted in a three-piece called Sower of Discord, from whom there is some live footage dating back to 2011, this split seems to be their recorded debut, and while not exactly newcomers as players, they're establishing themselves as a trio and the songs have a demo-style feel to them. Nonetheless, "Time and Tide," "Forward Until Death," "New Boss" and "Escape Pod" give an initial glimpse at some choice fuzz in the making. "Forward Until Death" particularly finds its breadth in breaking down to a section of minimalism held together by the bass until the guitar and drums reemerge for a larger, rolling apex, and "New Boss" functions similarly in its second half, trading out the roll in favor of classic rocking shuffle. Groove, hooks and engaging leads are the order of the day, and Sower embark on their first outing with a plan of action put to immediate work. It will be interesting to see how they move forward from here.