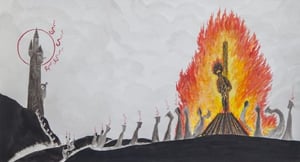 $

25.00
Blame It All On Sorcery, in Gatefold Record form! Mixed black & transparent blood red vinyl with orange splatter, screen printed poly bag.
'Blame It All On Sorcery' (2018) is the troupe's second full-length record and features some of Francis Roberts' finest writing to date. The guitarist and vocalist is joined by longtime companions Andre Beller on bass guitar and Kris Calabio on drums (both of whom provide some wonderful backup singing). We got a taste of the possibilities awaiting us last year, when Old Man Wizard released a short run of square, seven-inch lathe-cuts containing "Innocent Hands" and "The Blind Prince."
Now it's time to dig in one track deeper with the tale of "Cosmo." It's a brilliant listening adventure that joins the power of melody-driven harmonic rock, folk tales, and progressive metal. Certainly, you'll find it hard to resist spinning Blame It All Of Sorcery over and over. It's simply a breath of fresh air and I can't wait for you to hear it all.