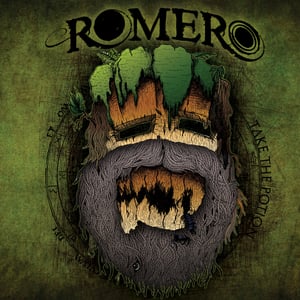 $

6.66
7 songs / 42 minutes.
Tracks
1.Compliments & Cocktails06:22
2.Couch Lock06:11
3.One Means Four06:18
4.Take The Potion03:59
5.Distraction Tree07:08
6.Wheeling Deervish04:52
7.In The Heather07:05
"Romero is part of what I'm perceiving as a new wave of stoner rockers who incorporate a little prog, a little psych, a little doom, a little of every note of music that has ever touched the ears of the musicians involved to create something aerodynamically unsound that flies like an endangered bird through smog-choked skies. It can be challenging music, if you're not ready for the challenge then your ears won't be equal to it. This album is what you put on after having a "... what the fuck ..." moment. Something this trapezoidal is sure to bang your brains back into place.
Highlights include: "Take The Potion" and "In The Heather"
Rating: 4/5" -- Paranoid Hitsphrenic