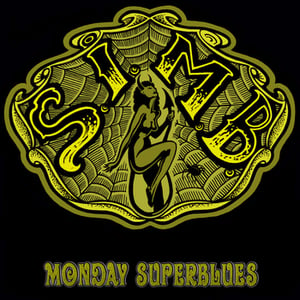 $

8.00 - On Sale
S.I.M.B. (short for Satan Is My Bitch) was formed in the early 2008 in Amsterdam by few friends living long way from home. The project consists of former and present members of well known underground bands as Artery, Brothers in Blood and Ebanizm. The debut release of the band is produced and recorded by the independent American producer Joey Z, the owner of Method of Groove Productions and guitarist of the legendary Life Of Agony and Carnivore. It delivers uncompromising sound ranging from fuzzy doom, stoner, southern metal to even some hardcore and heavy gothic grooves. Their music is heavily influenced by acts such as Cathedral, Kyuss, Alabama Thunderpussy, Type O Negative, The Cult. The record has few interesting guest appearances as Matt Lynch (Snail), Joey Z (Life Of Agony), Busty (Bustardolomey), Jonathan van der Haak (I-Reject) & more. At the end, its all about fun, laughing, tons of booze and ROCCKKKK!!!!
Intro (The Cave)
Monday
Demon Lover
So Heavy, So Slow
Alive
Mind Of God
Satan Is My Bitch
If You Just Try* (bonus)
"Fuzzed out stoner metal with raw but clean vocals and solid riffs aplenty.This record seriously kicks ass as well as lyricaly having it's tongue planted firmly in it's cheek. Favorite track: Satan Is My Bitch."