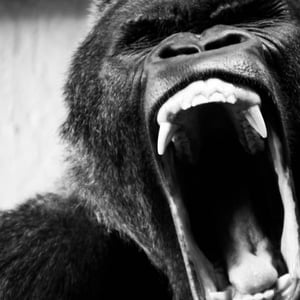 $

20.00
It was a cold, dark day when the fire burned high and the simian shadow raised his hand through the smoke in solemn praise and exclaimed, "It is time for instrumental rock!"
Intense Simian Instrumental Rock from the nasty pits of the Hellabrunn Zoo.
Born on Friday the 13th in Washington, D.C. and raised in Laurel, Maryland, Jeff Aug is a cool underground guitarist who lives at the foothills of the Alps in Southern Germany for the last 18 years. He has toured with Allan Holdsworth, Soft Machine, Johnny A., Albert Lee, and has performed shows with Jawbox, Shudder To Think, and Ice-T & Bodycount with his old band. He's worked with John Stabb from Government Issue, has been touring and recording with Anne Clark for the last 10+ years, and has been touring as a solo guitarist for the last 20+ years. Jeff can also be heard on the Atari Teenage Riot album "Is This Hyperreal?" (Dim Mak Records / Digital Hardcore Records). Jeff is also a Guinness™ world record holder setting the world record for the "most concerts performed in different countries in 24 hours" twice (2009, 2012)!
Combines both Ape Shifter I and II onto one double album package.
**Even though these records are pristine. please be aware we DO NOT issue refunds or replacements for minor cosmetic damage, such as corner dings, bends, split inserts, split covers, and so on. We pack our vinyl very securely and carefully but in some cases this type of wear is simply unavoidable in shipping. We can not be held accountable for how the Post Office handles your items. Please allow 10-14 days (usually) for order processing and shipping**
***GDPR NOTICE - BY PLACING AN ORDER IN THE RIPPLE MUSIC BIGCARTEL STORE, YOU AUTOMATICALLY ACCEPT BEING ADDED TO OUR NEWSLETTER MAILING LIST, WHERE WE REGULARLY WILL SEND OUT EMAILS DIRECTLY RELATED TO THE LABEL'S ACTIVITIES SUCH AS INFO ON PRE-ORDERS AND UPCOMING RELEASES. YOUR EMAIL ADDRESS IS STORED SECURELY BY US AND IS NOT EVER SHARED, SOLD, OR DISTRIBUTED TO THIRD PARTIES, NEITHER WILL IT BE USED FOR OTHER COMMERCIAL USE OR UNRELATED ADVERTISING. WITH EACH NEWSLETTER THERE IS AN OPT-OUT UNSUBSCRIBE OPTION THAT CAN BE USED AT ANY TIME.**