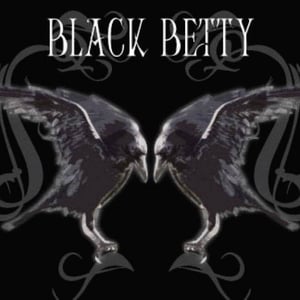 $

10.00
Twin Earth Records!
Black Betty is a musical entity consisting of Jonas Fairley and Ana Serena. Founded in our mutual love for music and the need to express, explore and exploit our creativity, we are committed to provide the most entertaining, alternative heavy music to the world.
"You've heard of power trios, but power DUOS? That's a pretty specialized market, but goodgawdam! Black Betty's got it cornered. Made up of drummer/vocalist Jonas Fairley and guitarist/singer Ana Serena, the group's got their own unique take on the classic rock/stoner/doom angle, and its head-banging good. If you can't get whiplash from these grooves, then go back to your ugly music and leave the rest of us alone.
First off, big ups to the label, Twin Earth, the (very) occasional releases of which have always been quality. Early High on Fire, Cuda, Starchild ....winners one and all, full of murderously good riffs and brimming over with groove, keepers to the last disc. Black Betty, however, seems like more of a left field proposition. The label site hasn't been updated for awhile, the group's site is hardly even there, and a general search yields almost nothing. Allay your fears, though, because Twin Earth hasn't lost its touch. I'll throw out some musical associations to fill in the blanks for ya: Rainbow, Zep without Plant's annoying whining, Sir Hedgehog, 'Sabbath, The Atomic Bitchwax, Magnet, Blood of the Sun, Mountain, and a whole lot more. Sound good? Dangit, they could start their own radio station; 'Betty really knows how to knit together their classic rock/metal, both old and new.
Ana's riffs are monolithic, combined with occasional melodic background/chorus vocals that are always spot-on. Jonas has a strong, clean, classic rock voice reminiscent of Mark Zammaron, Jonas Hedgehog, and at times even Dio. Where has this guy been hiding? His drumming is excellent, a bit flashy, but hell, if you're going to invoke classic 70s FM rock you'd better have the chops to play a solo, and IMO there should have been one on this disc. 'Astral Messiah' begins the festivities with a fine 'Snowblind-' type riff combined with sf/fantasy lyrics. 'Falling' is full of rolling groove, 'Devil Eyes' is a pounder with a dash of Rainbow, while 'Sunshine' is a Zep flower power metal delight. The only sour note was the chorus to 'Evil Once Again', the story of an Angus Young-like delinquent. The chorus may fit the tune well enough, but frankly the attraction of the "f word" lost its allure when I was 16 or so, and the word's too ferkin' common anyway.
Black Betty has scored a direct hit with this one, and Twin Earth has kept up their string of keepers. Get this and find out what kind of noise two people can make; it puts a lot of power trios to shame." -- Doom Metal.com