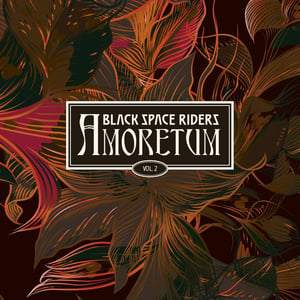 $

23.00
deluxe Version :: 2 LPs, heavyweight (180G), gatefold cover, incl. lyrics,
1.Before my eyes 03:18
2.LoveLoveLoveLoveLoveLoveLoveLoveLove (Break the pattern of fear) 04:59
3.Walls away 04:00
4.Slainte (Salud, dinero, amor) 03:24
5.Assimilating love 02:17
6.In our garden 05:41
7.Leaves of life (Falling down) 06:02
8.Body move 02:50
9.Take me to the stars 04:28
10.Ch Ch Ch Ch pt.I (The ugly corruptor) 06:46
11.Ch Ch Ch Ch pt.II (Living in my dream) 03:23
12.Chain reaction 03:27
13.No way 03:24
14.The wait is never over 12:45
about
Artist: BLACK SPACE RIDERS
Album: AMORETUM Vol. 2
Release date: 27.07.2018
Label/Distribution: BlackSpaceRecords / CargoRecords / RippleMusic
Genre: New Wave of Heavy Psychedelic Space Rock
Homebase: Münster (GER)
What, already?
The current album AMORETUM Vol. 1 has just been released, and is still on everyone's lips, and now BLACK SPACE RIDERS are already following it with AMORETUM Vol. 2.
All the songs on AMORETUM Vol. 1 & Vol. 2 emerged at the same time, and were recorded and produced in a single rush of creativity. The band decided to release the resulting two hours or so of music in two different parts. So the band's 6th album is a continuation, a second book, but it also exists as a completely autonomous work. Is Vol. 2 the rebellious older sister of Vol. 1, or the young, untamed brother? Maybe …
AMORETUM Vol. 2 also deals with the tension between fear-hate-rejection-darkness on the one hand, and empathy-love-acceptance-light on the other. "AMORETUM" (a made-up word from... more
credits
released July 27, 2018
all rights reserved: BLACK SPACE RIDERS 2018
Music & lyrics by BLACK SPACE RIDERS (Jochen Engelking)