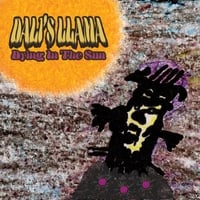 $

10.00
Produced by Scott Reeder. This is the 12th release from these heavy California desert rock pioneers.
Genre: Metal/Punk: Doom/Stoner Metal
Release Date: 2016
Album Notes
"…The original Desert-Doom band way ahead of their time…" - www.losounddesert.com
"...After so many years together and with so much music recorded already, it is remarkable that Dali's Llama have still yet to make a wrong turn in their recording career. There is NO other stoner-ish band band with this much consistently good music under their belts. Even so-called gods Kyuss had some iffy moments just 3 albums into their career while Fu Manchu were making some questionable musical decisions a decade or more ago (and still are in my opinion). Dali's Llama continue to satisfy all these years later and now I have read somewhere that someone is making a documentary about them and about time. There are not many other bands within the stoner-rock scene that deserves a film made about them like the Llama do. The band will continue to carry on under-appreciated which is the only tragedy to speak of here..." - DOOMMANTIA.COM
Seven songs / 42 minutes of riff heavy goodness!