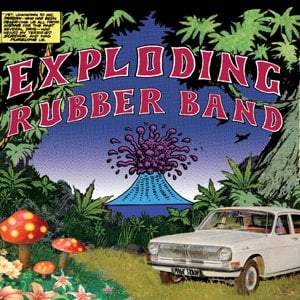 $

7.00
2 great exclusive tracks, mastered by Henryk Lipp. Clear green 7inch, limited to 400 copies, handnumbered, 300 gsm cover with spine.
TRACKS
A-Side:
1. Magic Train (3:20)
B-Side:
2. Rebellious Love (2:51)
Exploding Rubber Band is a Norwegian four-piece who play classic 70s-rock. The group's music is founded in a brand of progressive rhythm & blues, where heavy slide guitars and harmonicas, flanked by an explosive rhythm section, are used to push the music into the realms of funk, prog and early heavy metal. Their chief sources of inspiration can be found in groups such as the Alice Cooper Band, Deep Purple, The Faces and The Who, which is also evident in their live performances. In the fall of 2010 Exploding Rubber Band was picked as one of Europes twenty best underground bands by English record company Dead By Mono Records, and appeared on the label's compilation, 'No Way Out'. The band has self-released the self-titled debut album, printed on red vinyl, in 2010. The LP was produced by Grand Cafe's Christer Krogh in Freetransform Studios.